We got somewhat of a late start this morning so we decided to eat breakfast at SkyView Lodge in Presque Isle, WI. The food was great and the service was fast. We hit trail 6 east and got gas in Presque Isle. Then we hooked up with trail 1 north and made our way to Lake Gogebic. Just like yesterday, the trails were smooth and our ride across Lake Gogebic was great. We stopped in at the ski-doo dealer in Bergland, MI and swapped out one of our spare sleds for one that had just been tuned up. After a quick stop we made our way to trail 102 and headed north to Porcupine Mountain State Park.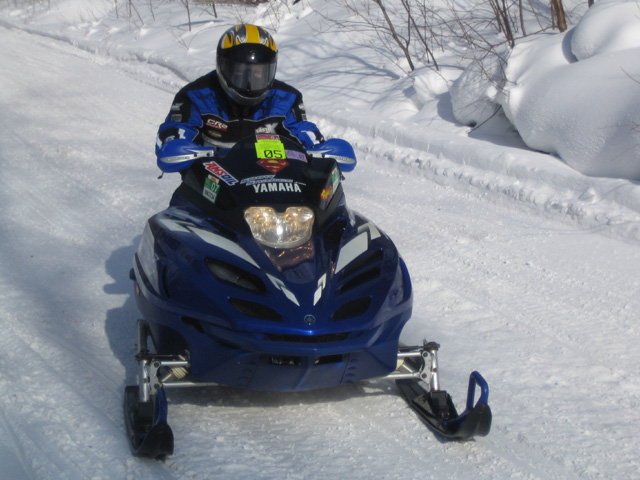 This trail was in excellent shape with very few bumps along the way. We ran in to trail 11 east and it was like a freeway. Flat, wide and super fast! We arrived at Lake Superior in no time and made our way up the hill to Lake of the Clouds. My buddy Matt had never been in this area, so I decided to show him the sights.
After our short hike to the top of the overlook, we snapped a few pictures and headed back down the hill to our sleds. We made our way down the hill and back to Silver City, MI. At this point we had around 100 miles on for the day and we were both hungry so we stopped for lunch at foothills. After another quick meal we were back on the trail and headed towards trail 1 south. We made a gas stop at Mobil in White Pine, MI and the continued on our way to Bergland, MI. Once we arrived in Bergland, we got back on Lake Gogebic and headed south. The sun was starting to go down and the snow was starting to fly! We exited the lake at the south end and joined back up with trail 1 south. About 90% of trail 1 had just been groomed and only the last 2 miles of our ride was on a trail that had a single bump in it.
If you ever get a chance to do some mid week riding (Tues, Wed, Thur) up this way, I would HIGHLY suggest it! You don't have to fight the crowds in the restaurants, the trails are smooth as glass and it's easier to find a place to stay.
Today the trails were in even better shape than the day before, which is pretty unbelievable! The majority of the snow was in the same areas as yesterday. Anywhere north of Bergland, MI or up towards Rockland, MI.
Check out the trail video:
Silver City, MI Trail 11 North

Snowmobile Trail Video (56 MB)
Trail Rating: 10 out of 10
Distance: 176
Previous: 2,620
Season Total: 2,796