This was our last day of the trip.  Everyone was feeling very comfortable so we decided to run up to Lake of the Clouds on Lake Superior.  For as bad as trail 1 was beat last night, we all mentally prepared to beat and bang through the woods for the first 10 miles, but to our surprise they actually groomed it!  Nice job GAG (Gogebic Area Grooming)!  When we turned on to trail 2, it was in great shape as well.  We took trail 1 north into Bergland.  For a Saturday morning the trail was in surprisingly good shape.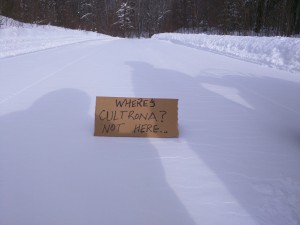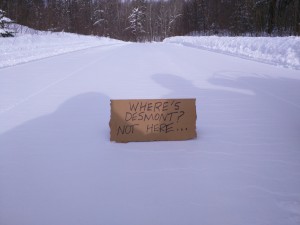 (If our buddies don't show up for the snowmobile trip, we make sure to remind them what they missed out on)
On our way into Bergland I decided to check on trail 1 north out of Bergland towards White Pine.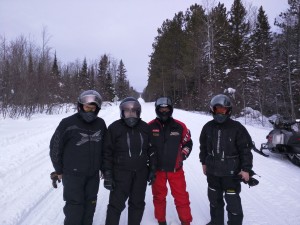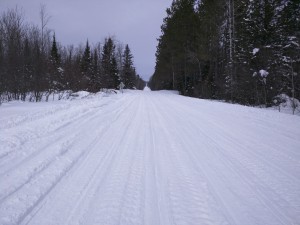 It was in great shape so we kept going north and stopped at Konteka in White Pine.  The staff there is always so helpful and friendly I always enjoy coming back.  After a bite to eat we gassed up and headed for the Porkies!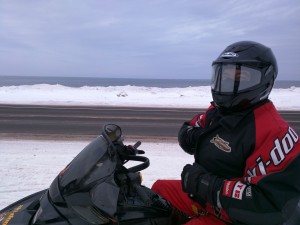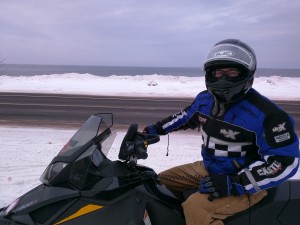 Our rookie riders had a couple sled problems, after we got those worked out we hiked up the hill and enjoyed the view.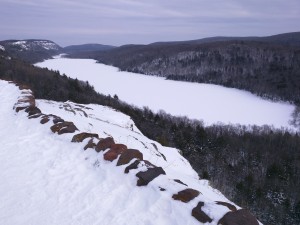 Then we took the boundary road to trail 102 towards Bergland.  The road was in awesome shape, 102 had a few ruts, but nothing too bad.
Rant warning – I can't understand what happens to peoples brains when they get on a snowmobile.  All common sense goes right out the window!  While coming down trail 102 around a blind corner, there were 3 sleds parked with a toddler running around on the trail.  I have kids of my own and know they need to play and have fun, but come on people, not in a blind corner!  If something happened to that kid, everyone involved would feel awful.  This was just one example of people doing dumb stuff on the trail that we saw over the last few days.  There were others (all adults) with their machines parked all over an intersection, literally blocking the entire trail.  Let me put this into simple terms for you people that don't ride a lot:  Would you park your car / truck in the middle of I-90?  How about Lake Shore Drive?  Not a good idea, use your head!
After fueling up in Bergland we took trail 13 towards Watersmeet.  The northern half of 13 was in great shape, it got worse the further south we went (probably more traffic down there).  We stopped at Rogers bar for a beverage, then made our way home to pack up for the trip home tomorrow.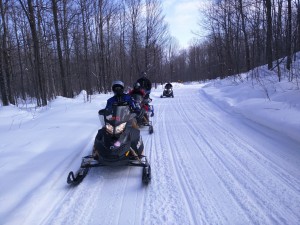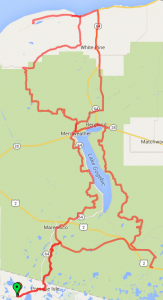 Overall Trail Rating: 9 out of 10
Distance: 212
Previous: 673
Season Total: 885
Check us out on Facebook:
http://www.facebook.com/pages/SnowSnakescom/175179815834100
Watch our trail videos on Youtube:
http://www.youtube.com/snowsnakesdotcom
Follow our live trail reports on Twitter:
http://twitter.com/snowsnakestrail