Today was our first ride of the 2008-2009 season. The trails were spectacular! I've never seen the trails this good, this early in the season. We added a snow gauge to the web site this year and it's showing 14+ inches:
http://www.snowsnakes.com/webcam-northwoods.php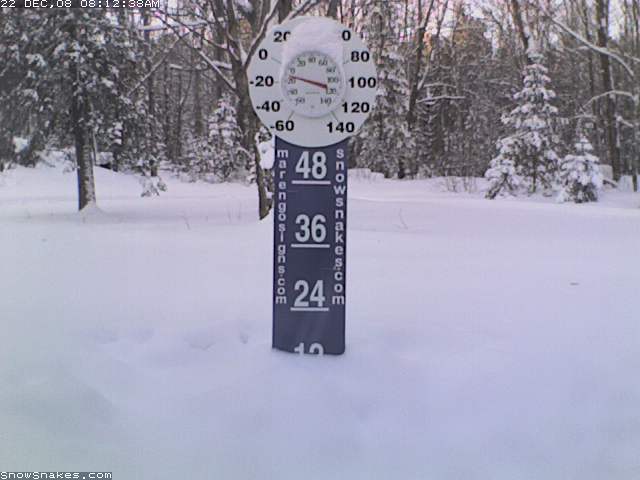 We rode from Winchester, WI to Presque Isle, WI….got gas and bought trail stickers for Michigan ($25/ea this year). Then we headed north up trail 1 through Marenisco towards Lake Gogebic. The trails were flat as could be and we only saw a handful of sleds. We jumped on Lake Gogebic and headed for Bergland. The lake was in good shape with a few fishermen in their ice shacks. There were a few slushy spots that had re froze, other than that it was full of fluffy powder. After arriving in Bergland we gassed up and got lunch at Antonios. We heard a rumor that the trail into Bergland was closed, but this turned out to be false. It was closed earlier this month, but it is business as usual now. After lunch we decided to take the trail back instead of running the lake. This was a great choice!

We got behind the groomer and rode a perfect trail for 20-30 miles! Once we passed the groomer, the trail was still in great shape! We rode through Marenisco and then made our way South to Presque Isle, WI.

If this ride is any indication of how this season will end up, it should be one of the best ever!
Overall Trail Rating: 10 out of 10
Distance: 104
Previous: 0
Season Total: 104
Tags: Bergland, Conditions, Marinesco, MI, Snowmobile, Trail